We can bring the Junior Master Gardener Program to your local school or youth organization. This inspiring international program focuses on horticulture, the environment, leadership and life skills. It is geared to grades 3 to 5 and its ready-to-use lessons meet Indiana state curriculum standards. The program can be used through the school year, or can be presented in flexible, stand-alone lessons to meet your classroom or group's needs.
Some of the PCMGA members who have taught the Junior Master Gardener program are Marilyn Dyson, Carolyn Dye, Linda Mapes, Laura Tucker, Mary Alice Dolhover, Vince Fischer, Charlotte Friedlund, Kathy VanArsdel, Sue Carter, Sue Spelde and Annette Young.
PCMGA members have conducted the Junior Master Gardener program at the following schools, day cares and youth organizations:
Boone Grove
Boone Grove Elementary
Chesterton
Liberty Elementary
Hebron
Porter Lakes Elementary
Michigan City
Marsh Elementary
Portage
Myers Elementary
Chrisman Elementary
Porter
Yost Elementary
South Haven
South Haven Elementary
Union Township
Union Center Elementary
Valparaiso
Central Elementary
Hayes Leonard Elementary
Reiner Community Center
Hilltop Neighborhood House
Immanuel Lutheran School
Taltree Nature Camp
Valpo Boys & Girls Club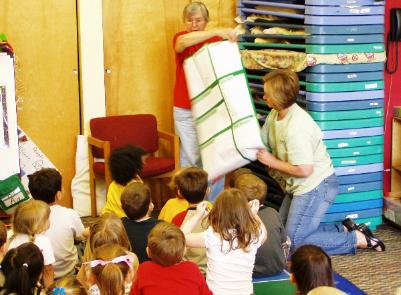 Many leaders of the Junior Master Gardener program have relied on other PCMGA members to assist them in the classrooms. Assistants will read books, chop vegetables and fruit, aid in crafts, help with games, demonstrations and snacks. Some of the members who have been assistants are Judy Engle, Cathy Gingerich, Cheri Miller, and Joan Chirby. Ken Tucker has been active working behind the scenes tilling soil, spreading compost, and building flower presses, rain gauge stands, and wooden pot makers.
Contact Us to learn more about the Junior Master Gardener program.