2018 Seminars at the 15th Annual Gardening Show
The Porter County Master Gardeners Associations 15th Annual Gardening Show is shaping up to be one of our best Gardening Shows ever. We are proud to announce Melinda Myers as our keynote speaker (see her bio below). You won't want to miss the rest of our diverse lineup of speakers and demonstrations certain to educate and entertain indoor and outdoor gardeners of all types.
Please check back often for updates and schedules for these amazing presentations and demonstrations at one of the best-valued and best-loved shows in the greater Chicagoland region.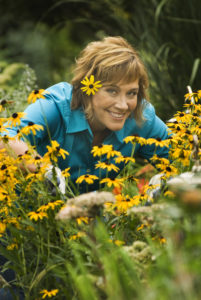 Melinda Myers, Keynote Speaker
About Melinda Myers
Nationally known gardening expert, TV/radio host, author and columnist Melinda Myers has over 30 years of horticulture experience and has written over 20 gardening books, including Small Space Gardening, The Indiana Lawn Guide and the Midwest Gardener's Handbook. She hosts the nationally-syndicated "Melinda's Garden Moment" program which airs on over 115 TV and radio stations throughout the United States. Myers also hosts the nationally-distributed Great Courses "How to Grow Anything" DVD series. She is a columnist and contributing editor for Birds & Blooms and writes the twice monthly "Gardeners' Questions" newspaper column. Prior to her current media work, Melinda hosted "The Plant Doctor" radio show for over 20 years as well as seven seasons of "Great Lakes Gardener" on PBS. Myers has a master's degree in horticulture, was a horticulture instructor with tenure and is a certified arborist. She's received recognition and numerous awards, including the American Horticultural Society's B.Y. Morrison Communication Award. In 2017, Myers was inducted into the national Hall of Fame of GWA: The Association for Garden Communicators, the highest honor that can be given to a member of the association. Myers's website is www.melindamyers.com.